Biography
I
was born in London and worked as an IT consultant until 1998, when I moved to Oxfordshire and gave up full time employment to pursue my interest in art and particularly textiles.
I studied at Gloucestershire College of Further Education and University of West of England in Soft Furnishings and Textiles and began lecturing on a part-time basis for Gloucestershire College in 2003 on a variety courses. I have a Cert Ed (FE), Public Liability Insurance and CRB check.
Between 2006 and 2010, I worked on a number of science/art public engagement projects firstly as lead artist for "Designs for Life", funded by Wellcome Trust, this was a collaboration with Oxford Trust, Diamond Light Source and the Oxfordshire Federation of WI's. Later, as Artist in Residence for Diamond Light Source. You can read my blog on the experience here.
I have also worked with metal sculptor Paula Groves, providing designs for a number of pieces for her Bronze-Medal-winning stand at the Chelsea Flower Show.
Other commissions include shrouds for Bristol NHS Trust's Viewing Rooms (formally mortuaries), at Frenchay and Southmeads Hospitals.
In 2010 I began developing a number of collections based on Fabrics and Furnishings and applying some of the techniques I have been using in these projects to create unique pieces for interiors. These collections can be viewed here.
More information on the above, can be found in the Gallery and Projects pages. I continue to lecture part time as well as exhibiting, working to commission and giving talks and workshops throughout the country.
For more information on my Fine Art projects, see www.annegriffiths.com
Artist Statement
I specialise in working with transparent materials, embellished with machine stitch and paint, sometimes combined with heavier materials, such as acrylic or metal to create durable pieces. My starting points are often a word or quotation that demands visual representation.
"Liminal" is a word and a state, that fascinates me and my first body of work explored the ambiguity and tension in the boundaries between fibres in woven fabrics.
Inspired by my residency at Diamond Light Source, I investigated a number of scientific projects involving iron and completed a series of sculptural pieces entitled "Anamnesis". In this work, the memory of materials are imprinted on cloth, this could be the patterns formed by magnetic fields, the prints made by rusting materials or the stains from iron pigments.
For my last exhibition I returned to "Liminality", and nowhere in literature is there a better starting point than Lewis Carrol's "Alice in Wonderland". Where to enter the betweenity of Alice's Wonderland, you must follow the White Rabbit, falling down into the dreamworld of the Red Queen and the Cheshire Cat.
Community Projects
Exhibitions
Cornerstone Gallery, Didcot "Alice's House" October-November 2012
Farfield Mill, Sedbergh, "Alice's House" November-December 2011
Mably, France, September 2011
Oxford Museum, "Curiouser and Curiouser" June-September 2011
Cornerstone Gallery, Didcot, "Flora and Fauna" March-April 2010
The Ignition Gallery, The Joiners Shop, Chatham Dockyard, Nov-Dec 2009
Farfield Mill Arts Centre, Sedbergh, September-November 2009
Weaver's Gallery Ledbury, July 2009
Mill Arts Centre Banbury, July 2009
The Motto Project: Cloth is my Bread, Kendal, September 2008
Bluecoat Gallery Liverpool, September 2008
Mill Arts Centre Banbury, 2008; 2009
Contemporary Texiles Fair, Landmark Arts Teddington, March 2008
Vale & Downland Museum, Exhibition of Local Artists, 2008; 2009; 2010; 2011
Banbury Museum, December 2007
Harrogate Fashion and Embroidery Show, October 2007
New Arts Centre Chatham, July 2007
Festival of Quilts, August 2006
Said Business School, Oxford, May 2006
Harrogate Fashion and Embroidery Show, October 2005
Press, Media & Publications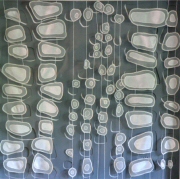 Workshop on the Web, "Miniature Kimonos", July 2017
BBC Radio Oxford "Afternoon", Interview 'Juxtaposition', 19th August 2016
That's Oxfordshire TV 'Tapestry of Wantage in 2016'
The Observer 'Peer Inside, Briefly, the Smallest Museum in New York', June 2015
Wall Street Journal 'Tiny Downtown Museum Expands', June 2015
4 Shires Magazine, Artist of the Month, February 2010
Stitch Magazine, "Bras to Bags", February 2010
BBC Radio Oxford "Arts and Culture Show", 27th January 2010
BBC Radio Oxford "Afternoon", 12th January 2010
Sky - Countryside Channel, "Talking Threads", September 2009
Wellcome News, "Designs for Life Update", April 2007
Oxfordshire Life, "Life's Rich Tapestry", Featured Artist February 2007
BBC Oxford, Oxford Inspires, Radio Interview, 2007
Trends in Textile Technology, Hazel King, 2007
Embroidery "Designs for Life", November 2006
Oxfordshire Limited Edition, "A Stitch in Time", August 2006
Workbox, "Machine Embroidery with Anne Griffiths", Februrary 2005
The Encylopedia of Machine Embroidery, Val Holmes, 2004
The Textile Directory, 2003-2005