Exhibitions
"Alice" is an exhibition inspired by Alice's Adventures in Wonderland. It includes 20 large hangings, as well as distorting mirrors, Alice's iphone and printed sketchbooks. 2015 is the 150th anniversary of the first publication of Alice's Adventures in Wonderland. More information about showing the exhibition, is here.
Most recently "Alice" was been exhibited at
15 June - 1 September 2013
In this exhibition, the hangings were displayed against the wall rather than in the middle of the room as they had been shown before at Cornerstone and Farfield Mill. Scroll down for images from these exhibitions.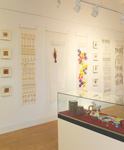 Cornerstone Arts Centre, Didcot
from 18th October - 25th November 2012. Images of the additional work created for this exhibition are shown here. The hangings originally created for Farfield Mill are shown below.
Emma Dolman, Arts Director, said:
"Our recent exhibition by Anne Griffiths, celebrating all things Alice in Wonderland, was a delight on many levels. A delight to see such skill on display, a delight to see the inventiveness - every day something else to surprise and give pleasure, and a delight to see the reactions from visitors of all ages."
"The range of work was very impressive - mainly textiles and in so many forms. Commercially it was also an ideal exhibition as it gave visitors the opportunity to buy some of the lovely pieces to take home - cushions, handmade books, rabbits, pictures - unique works of art, beautifully made at very reasonable prices."
"I would highly recommend this exhibition."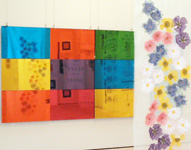 It was shown at Farfield Mill from 19th November 2011 - 1st January 2012 During its seven-week run, it received some really generous comments:
"Wonderful, very inspiring, beautifully created work - thoroughly enjoyable"
"This exhibition made me feel happy, thank you!"
"Very rarely do we see such exquisite work. Breathtaking."
Farfield Mill's curator, Elizabeth Eaton, also said:
"Given the Mill's drive to becoming a Centre of Excellence for textiles in the North West, Anne's innovative and exquisitely accomplished exhibition was just what we needed over the Christmas period - full of light and magic and brimming with ideas."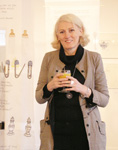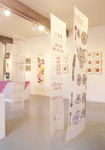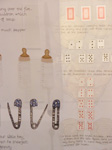 Oxford Museum - Curiouser and Curiouser...
How Lewis Carroll's Alice's Adventures in Wonderland has inspired different art forms. Work by local artists.
9th July 2011 - 3rd September 2011
The set of four cushions was made for Oxford Museum's children's area to coordinate with the greetings cards shown below.
Kate Toomey from the museum said
"We are delighted with the bespoke Alice in Wonderland themed cushions Anne designed and made for us at the museum - they add a feeling of homeliness and comfort to our Alice reading corner."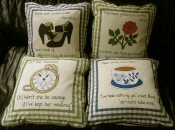 For more information on any of the above please email me.