The Big Draw - Mill Arts Centre Banbury
The Big Draw at The Mill Arts Centre in 2008 was timed to coincide with the National Storytelling week. The subject for the project was to be Hats in Childrens books and we were going to make a "Big Story Blanket".
I choose 29 different hats worn by well know characters and put packs together which included a cutout felt hat, a background square and bits and pieces that might be used to define the wearer, for instance Paddington Bear's hat included duffle coat toggles, Mary Poppins' hat had a bunch of cherries, if you remember, she lived in Cherry Tree Lane, and so on.
Families were then invited to come to design a square and complete the hats in any way they liked using the contents of the pack as a starting point.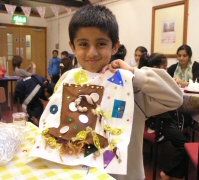 The story blanket was completed with the 30th square embroidered with 2008, The Big Draw Story Blanket and of course Mill Arts.
It is now on display in Banbury Library, where you can enter a competition to guess the owner of each of the hats. There are theatre tickets to Hansel and Gretel at The Mill in February for three lucky winners.
Please click on a thumbnail for a larger image and description of each of the hats:-