Cushions for "One Snowy Night" - Cornerstone Arts Centre 12th -17th December 2011
The brief is to produce floor cushions for the children to sit on, at the performance of "One Snowy Night" by Nick Butterworth at Cornerstone, Didcot - December 2011. The cushions will be used in the future for other theatre shows so no particular theme is required. We have decided to opt for general markmaking techniques to produce abstract designs which will coordinate with the general theme of the centre and the theatre.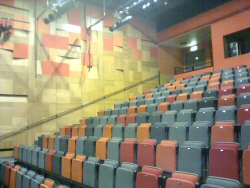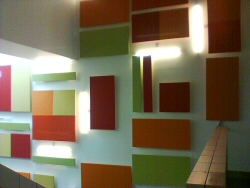 The existing colour scheme is shown. A heavy denim will be dyed in a yellow and two tones of orange to coordinate with this colour scheme, the printing will be in black, grey, white, red and yellow.
Two schools are taking part in the project, Chalgrove Primary School, where 22 4 and 5 year old children will print the covers, and Hagbourne Primary where 30, 10 and 11 year olds will do the same thing.
The first half day sessions were devoted to markmaking techniques on paper which will then be translated onto fabric for the cushions in a second half day.
Chalgrove Primary School
The reception class of Mrs. Jane Crickmore at Chalgrove Primary, worked with black, grey, white, red and yellow coloured poster paints on white paper. They used sponges, rollers and brushes to make marks and patterns.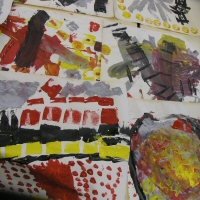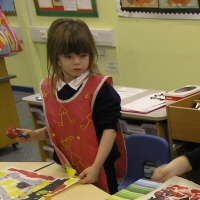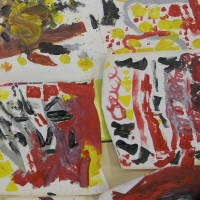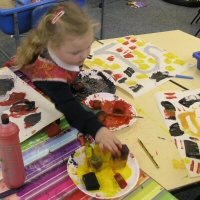 Hagbourne Primary School
The year 6 class of Mrs. Angela Pape at Hagbourne, experimented with black and white paint on coloured paper. Working with sponges and potatoes, cut into printing blocks.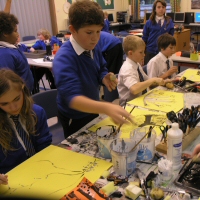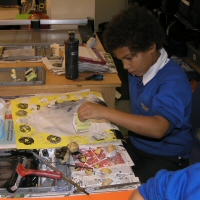 Both classes worked continued to work with the same printing materials when they repeated the exercise using fabric paints onto the dyed cotton denim.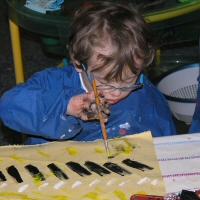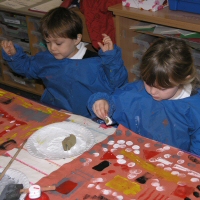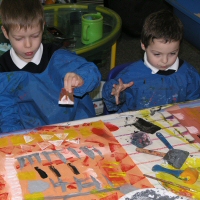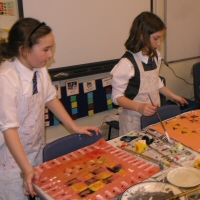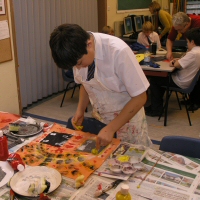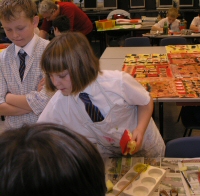 Didcot Girls' School
The girls at Didcot Girls School in Mrs Paynter Year 10 group added machine embroidery in black, white, yellow and red to the fronts of the cushions using a variety of straight and zigzag stitches to enhance the printed shapes. They also cut the cushion fronts and backs to size.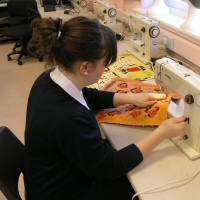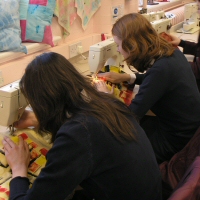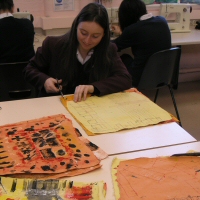 Completed Cushions
Some of the completed cushions are shown below, together with the children from Chalgrove Primary School after the Wednesday lunchtime performance of One Snowy Night.