Anne Griffiths :: Contemporary Textile Art
Distance Learning Course
S
ometime ago, I began offering the old 1 year, level 2 City & Guilds Machine Embroidery course as a Distance Learning offering. As I am no longer affiliated to a college and cannot offer any kind of certificate, it does work out as a much cheaper option and allows you to take as long as you like to complete the work. See work completed by the first students here!
I have now added the option to buy the units as a spiral bound book, for use as a reference in your own work. For more information or to purchase the book
Email anne@pocketmouse.co.uk
Follow me on Facebook
Newsletter
M
y newsletter follows, if you would like to sign up to receive it by email then please use the form at the bottom of the page.
It has occurred to me though that some of the programmes and exhibitions I refer to may be finishing by the time you get the newsletters. I do usually try and put links to them on my Facebook page if you would like to hear about them earlier.
Old newsletters may be viewed by clicking on the archive list below.
Of course I am always glad of any news or comments that you would like to make so please do email me.
July 2018
I
have finally completed the move to the new studio in Magdalen and not only have I already had a few people in for one to one sessions but have done some filming with BBC Scotland and Professor Nandini Das for a programme who are making about the travels and discoveries of Richard Hakluyt (1580–1609). Hakluyt was a diplomat and part-time spy, and probably England's first serious geographer. My piece was about the process of dyeing with indigo and cochineal and how the process is done today, together with some information about other natural dyes, madder, weld and cutch which was the focus of my HNC some years ago now!
Hakluyt was a scholar, diplomat and part-time spy, was also England's first serious geographer, and gathered together a wealth of accounts about the wide-ranging travels and discoveries of the sixteenth-century English. I was particularly excited as Professor Das has previously made a programme on one of my pet subjects, "The Cabinet of Curiosities – Secret Knowledge". The programme is due to go out in September on BBC Channel 4 and I will do my best to update this page with information.
Coincidentally I was planning to run a workshop over the summer on printing with indigo, which is quite different to dyeing, due to the buildup of work this will have to slip to the autumn now, but if you are interested then do drop me an email and I can put you on a list and let you have some potential dates.
As many of you know, indigo and natural dyeing are classes I have been running for several years and there never seems to be an end though to the amount of interest in this topic and range of results you can achieve with this amazing dye and if anyone has tried it before and is interested in taking the process further, I will have a follow up class using the indigo fabrics and discharging and over dyeing with potassium permanganate. The great thing about having the new studio space is that the numbers have to be limited to a maximum of 5 people which means you will get even more access to the vat. Again, let me know if you are interested.
During the residential at Bodrugan this year we focussed on a new topic, 'Architecture' as the starting point for work. We were in Cornwall during the most unpleasant part of the winter but am glad to say that the experience of the 'Beast from the East' did not affect us too badly. We holed up with food and drink and printed and stitched contentedly in our cosy studio. Next year's starting point is 'Flora and Fauna' and will focus on shadow work, layering and burning. It will run from 22nd February to 1st March so do get in touch if you are interested in coming – I will update the appropriate page as soon as possible with some samples, but here is a piece by Gerry Gouge, painstakingly printed layer by layer from a simple tile design. I would love to see what eventually happened to these pieces, perhaps an updated photo Gerry?
One of my personal all time favourite artists who has recently had a retrospective Mark Dion: Theatre of the Natural World at the Whitechapel Gallery.
Dion whose work revolves around Museum practice, archeology and the environment. It was his installation 'Bureau of the Centre for the Study of Surrealism And Its Legacy' at Manchester Museum on which I had focussed for my major essay in my Fine Art degree and in January I was lucky enough to go to the museum to help pack the piece for its move down to London. For anyone else interested in how one artist approaches the topic of how to preserve the natural world his work is well worth investigating.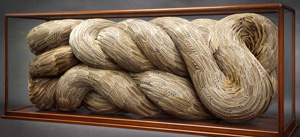 Of course the other blockbuster exhibition on is the 250th Summer Exhibition at the Royal Academy which is bigger and better than ever this year with amazing including the beautiful 'Squall'by Kate MccGwire, a huge taxidermy sculpture made entirely from pheasant feathers.
As many of you who are friends on Facebook or Instagram, will have seen, I was also lucky enough to have 'The Taxonomy of the Cornflake' selected for the Royal Academy. The piece is a tongue in cheek reflection on the way lepidopterists collect, categorise and display butterflies and our inherent habit to build collections where "one man's trash is another man's treasure". A further collection from 'The Taxonomy' is now showing in New York at the Colorfactory. For more information on this and my other Fine Art projects visit www.annegriffiths.com.
So as we are moving into autumn, I will be working with a new group in Faringdon, on a textile project commemorating 800 years since the town received its Market Charter, more news of this as it progresses. As always, I am looking forward to receiving lots of your news, so do keep in touch.
Best wishes,
Contact Information
Anne Griffiths Textile Art
4 Gabriel House
Newbury Street
Wantage
Oxfordshire
OX12 8DJ
tel. 07788 518480‬
anne@pocketmouse.co.uk