Workshops
Any of the following workshops can be run from your own venue, or, if you and a group of friends are interested in one of the workshops I am happy to run in your own home or assist in finding a suitable public hall.
The cost for each workshop is £220 plus travel.
Stumpwork Beetles and Butterflies
Using paint, nail varnish, false eyelashes and false nails combined with a traditional range of silk fabrics and hand embroidery you will create a stumpwork butterfly and beetle which can be applied to a background of your choice. A selection of my own insects together with those made by Wolverhampton Embroiderers are shown here »
Japanese Stab Bound Books
During this workshop I will bring a selection of antique Japanese books to show, you will then begin with a simple Japanese Stab Bound Book, perhaps covered with traditional origami paper. You may then either make a second book, with perhaps a more complex stitched design or perhaps embellished with beads. Alternatively you may wish to make a flutter book, another type of Japanese paper book made from a single sheet of paper.
For a selection of my books, together with some made on workshops at Enfield Embroiderers Guild and Mill Arts Banbury see here »
Machine Embroidery for Beginners
This day is suitable for complete beginners wishing to learn how to use their machine for free machine embroidery.
Experiment with tension to create whip stitch, granite stitch, and use heavy threads in the bobbin to create cable stitch.
In the morning you will create a portfolio of samples stitched on a range of papers and fabrics which could be turned into a book cover or simple bag in the afternoon.
Soluble Fabric and Bowls
A chance to learn how to use soluble fabric combined with machine embroidery to create a delicate bowl which can later be further embellished with beads, or stitch.
This is a chance to practice or try free machine embroidery for the first time. You may also use your machine with a presser foot if you prefer.
Your own sewing machines are required for this course.
For images of bowls completed on this workshop, see here »
Illuminated Manuscripts
Use old wooden printing blocks with tomato puree tubes to create a metal letter or to print using metallic paints and bronzing powders. Review source material to decorate your chosen letter in the style of a Medieval manuscript.
You should begin to stitch this piece, either using hand or machine embroidery. If you bring your machine I happy to review free machine embroidery with you.
For images of letters completed on this workshop, see here »
Soluble Fabric and Fantasy Flowers

Use machine embroidery techniques and work with organza and soluble fabric to create a Fantasy Flower suitable for a corsage, hairpiece etc. Suitable for those with no experience however you will need to bring a sewing machine.
This is a chance to practice or try free machine embroidery for the first time. You may also use your machine with a presser foot if you prefer.
Your own sewing machines are required for this course.
For images of flowers completed on this workshop, see here »
Seed Packets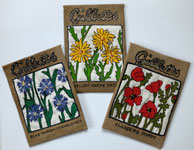 Using a combination of two different stencils, create your own background for stitching this tiny panel by hand or machine. Appliqué onto your "packet" background and embroider your title designs before adding a fastening to complete. You may want to add a cord to turn the packet into a purse for a mobile phone or notebook.
This class can be run over one or two days, for the one day workshop I suggest you use one of my designs so that you will get the project completed.
Designs which I have made up are shown see here »
From Bras to Bags
Recycle an old bra into a tiny decorated bag and contribute to Breast Cancer! 10% of the course fee will be donated to Breast Cancer.
During this workshop you will learn how to dye manmade fabrics to colour old bras and lace for embellishments.
You may then decorate your bra in your choice of hand, machine embroidery or beading before seeing how it can be cut, lined and manipulated into a funky bag. No experience is required for this course.
For instructions and images of bags completed on this workshop, click here »
Folded Tassels
Design your own 3 dimensional tassel, using folding fabrics.
Begin the day by making a simple hand or machine tassel. Follow this up by combining small embroidered pieces with origami techniques to make unique 3-dimentional tassel heads which can be embellished with beads or simple skirts.
Images of tassels completed on this workshop.
Handmade Paper
Make your own paper from bamboo, cotton or just recyle shredded photocopy paper.
Personalise your paper with threads, seeds, potpourri or tea. Dye your paper pulps to give a range of coloured papers or inlay shapes into plain papers.
Corded Bags

Use up old balls of wool and unfinished knitting projects to make a tiny bag suitable for a mobile phone.
Suitable for those with no experience of machine embroidery. You will need to bring a sewing machine.
Bookcovers
Look at a variety of ideas to make a bookcover that could be used time and time again to cover a standard size notebook, diary, passport etc.
This could be decorated with hand or machine stitch.
Suitable for those with no embroidery experience.
Creative Sketchbooks 1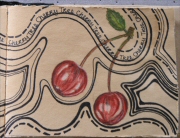 The first in a series of workshops in which we will look at a number of design and drawing exercises to give your sketchbooks an original and unique feel and generate ideas for further development in your own craft.
These can be taken indiviually or as a series and in any order.
Suitable for feltmakers, embroidereres etc.
In the Style of… Klimt
Using the golds and ornate colour, together with the rich pattern found in the work of Gustav Klimt as inspiration we will look at the composition of a selection of his paintings. Using these ideas, you will then create the background for your own panel which will then be painted and stitched using experimental metallic materials such as shim, gutta, bronzing powder, painted bondaweb and gold leaf.
This day is suitable for hand or machine stitching as you prefer.
Images of panels completed on this workshop.
In the Style of… Matisse
Matisse was renowned for his love of textiles and created many paintings using his large collections as backdrops. During this workshop you will look at how his ideas can inspire your own stitched panel. Suitable for hand or machine stitch as you prefer.
Natural Dyeing
Create a colour fabric swatch using a range of natural materials and learn how they have been used in different cultures for dyeing over the centuries.
Indigo

Learn a little about the history of one of the oldest dyes known to man and how to set up an indigo vat for use during the day.
Use traditional tie dye, folding, clamping and resist techniques you will create a range of beautiful blue fabrics and threads. Techniques learned on this course can be applied to other dyeing methods.
This course is suitable for anyone interested in dyeing, no previous experience is required.
Handmade Felt
During this class you will learn the basics of feltmaking and you can create background fabrics which are suitable for embroidery or as small artworks for framing or turning into cushions or bags. We will cover creating the very finest of nuno felt, a fine silk or scrim sandwiched between fine wool or pieces as thick as you require.
We will look at how colours can be combined randomly and by inlaying patterns using pre-felt.
This course is suitable for complete beginners or those who have some experience with handmade felt and want to learn new techniques.
Image Transfer Techniques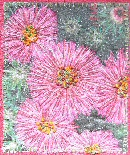 Look at a number of methods to transfer your own image onto different fabrics including cotton, silk and parcel tape which can be used as a background for stitch. Hand or machine techniques may be used to embellish your image.
Please send image when booking.
Cushions

Hints and tips on measuring up for your cushion, cutting your fabric, insert a zip and piping to give your cushions a truly professional finish. You will need to bring your own sewing machine.
Paper Jewellery
Colour and manipulate ordinary paper to make a range of different shaped beads. These will then be used to make an item of jewellery or a tassel.
Dyeing Workshop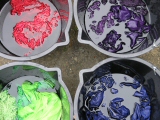 Use a variety of dyeing and printing techniques to create background fabrics for embroidery or patchwork.
There will also be the opportunity to create your own hand dyed silk scarf.
All abilities are welcome on this course, whether you have experience of dyeing fabrics and want a day to "play" or are a complete beginner.
Creating a Handmade Book
During this day you will make a book!
This could be used as a themed sketchbook for use in the subsequent workshops on filling sketchbooks.
Alternatively it could be a gift for yourself or a friend!
Beading
Learn simple bead techniques which can be used to create a variety of jewellery pieces such as the lariat shown. Once mastered these stitches can be used in so many applications, for tassels, cords or as ways of enhancing embroidered pieces.
No experience is necessary and a variety of stitches will be demonstrated on the day.