"Leaves and Trees" 7th-14th March 2014
During this course we will use the shapes and patterns of blossom, leaves and nuts, the textures of bark, the silouette of the tree itself, together with the idea of time passing as seen in the rings of the tree. We will use hand and machine embroidery techniques, with the focus on layers. This might involve applique, layer and cutback, and making textured fabrics from frayed scraps and threads. The course is suitable for complete beginners as well as the more experienced.
For more samples as I make them, see my Facebook Page (you don't have to be a member)!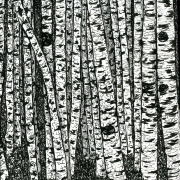 Friday
Arrive 16.00 for Introduction and Discussion. Review samples, and look at your own source material and discuss ambitions for the week.
Welcome Dinner 19.30 (cost included).
Saturday
Visit the Lost Gardens of Heligan for inspiration. This could take the form of photographs or drawing if you wish, taking rubbings from trees or collecting fallen leaves all of which could be used as reference material. I will collect the camera cards at lunch time and take the to St. Austell to get prints ready in order that you can work from them on Sunday.
Sunday 10.00 - 16.30 (lunch included)
Preparing Papers and Fabrics
Look at how other artists such as Klimt, Modrian, Cezanne or Hockney have interpreted trees in there work. Each using a very different style.
Using these artists to inform your work, make stencils, printing blocks, or use monoprinting techniques to create a variety of backgrounds on both fabric, papers and other material such as plastic or foil for use during the week. There will also be the opportunity to make handmade paper with a variety of inclusions if you have never done so before.
Monday 10.00 - 16.30 (lunch included)
Shapes, Patterns and Leaves
Use your prefered combination of machine or hand quilting using either traditional wadding fabric or experiment with packagings and plastics to begin a piece using the shapes and patterns found in leaves, seeds or the shapes of the trees themselves as your theme.
Tuesday 10.00 - 16.30 (lunch included)
Textures and Bark
In addition to using different bonding materials such as gesso, we will layer a range of transparent and textured fabrics, experiment with painting bondaweb, and use bonding powder to make scrap fabrics for stitching.
Wednesday
Free day for sightseeing or working on your project. You could visit the local beaches, the Eden Project or Tate St. Ives is just over an hours drive away.
Thursday 10.00 - 16.30 (lunch included)
Marking Time - Journals and Tree Rings
Continue working on your pieces or conclude the week by marking your time, experiences, samples and ideas in your own tiny notebooks or diaries. The format of these notebooks also makes great gifts for family and friends.
Conclusion and Dinner 19.30 (cost included).