Commission for HM The Queen
Design
The design for the gift was to be a textile representation of the photosynthesis protein molecule. The process used by plants to turn light into energy.
One portion of the molecule had been the icon for the "Designs for Life" project and had been stitched by over 1000 members of the Oxfordshire Federation of WI's, Diamond staff and members of the public.
The first job was to split the design into something much simpler that was suitable for appliqué and put some colour alternatives together.
Fabrics and Stitch
I wanted to make this piece look at light and transparent as possible and so naturally turned to my favourite semi transparent silk organza. As I dye most of my fabrics, I was free to choose whatever I liked.
I experimented with some of my preferred colours, but wasn't really happy, I needed to include much more in the way of metallic fabrics and threads.
I finally used two layers of blue and red organza which mixed together to give a purple effect. On top of this were pink, turquoise and yellow silks together with silver paper lamé.
The piece was framed between two pieces of acrylic, etched with the date, occasion, signature etc. It is pictured here in it's presentation box.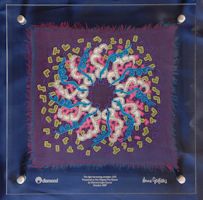 Presentation
Below are some pictures of the presentation of "Designs for Life" and of Her Majesty being presented with the gift.