Street
These motifs for these cushions are based on "Street" designs.
Tattoo
The designs for these cushions come from the old style sailor tattoos which are having a general resurgence amongst younger sailors and men in general. They are made from appliquéd silk on a textured flesh coloured background.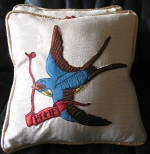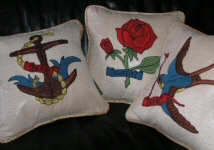 Polynesian Tattoo
These take Polynesian tattoo designs as inspiration and are painted silk with a piercing ring.
Biker
These are inspired by leather biker jackets, with studs, chains and biker motifs. This is made from black leatherette with an appliquéd denim and velvet Union Jack and studs mounted on quilted background.