Daisy, Duck and Scarecrow
The motifs taken from this simple childrens' fabric, have been enlarged appliqued and using a variety of fabrics from silk to denim, onto different backgrounds. The daisy and duck designs onto a hardwearing denim and the scarecrow onto a soft woven wool.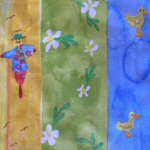 Rocking Horse
The Rocking Horse motifs have been taken from this delightful Anna French childrens fabric embroidered and appliquéd onto a denim background. The long cushion has borders from a similarly coloured Anna French fabric, "Delphi Stripe".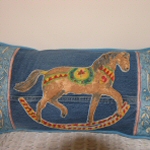 Alice in Wonderland Cushions
This set of four cushions based on scenes from Alice in Wonderland was made for Oxford Museum's children's area. Kate Toomy from the museum said
"We are delighted with the bespoke Alice in Wonderland themed cushions Anne designed and made for us at the museum - they add a feeling of homeliness and comfort to our Alice reading corner."