Talks and Workshops
I have a current CRB certificate and public liability insurance and am happy to travel or stay overnight should you want to book a talk or workshop.
Talks
Each of these talks takes approximately one hour and is in the form of a powerpoint presentation accompanied by samples and sketchbooks. The cost of each talk is £70 plus travel at 45 pence per mile.
Stories in Stitch
Many of my pieces have been inspired by text, whether it be illuminated manuscripts, a word such as Liminal", a haiku from which I made a series of kimonos, or a book such as Alice in Wonderland. See the hangings from the "Alice" exhibition together with the sketchbooks, the evolution of the ideas and examples from each of these series of work.
Diamond Stitches
Science meets Textiles, learn about my community outreach projects, "Designs for Life", "The Largest Diffraction Pattern in the World!" and work as Artist in Residence at Diamond Light Source, the UK's national synchrotron facility, located at the Harwell Science and Innovation Campus in Oxfordshire.
City & Guilds and Beyond
How I began my career as a Textile Artist. I will bring samples and assessment pieces from own City & Guilds onwards and discuss how I began teaching and creating bespoke textiles.
Guild Workshops
Residential Courses, Cornwall 2018
You will stay on the beautiful, working farm of Bodrugan Barton just a few miles from the "Lost Gardens of Heligan" on the South Cornwall coast. The farm has a heated indoor swimming pool, and sauna which you are free to use.
The cost of the course includes a single room with ensuite shower room. Dinner on the first and last night and lunches on all teaching days. All the food is fabulous, and local pubs and restaurants can provide evening meals if you can still eat them! You will need to bring your own breakfast and something light to eat in the evenings.
The cost for the course is £470. You can pay by cheque, payable to Anne Griffiths, 4 Gabriel House, Newbury Street, Wantage, Oxon OX12 8DJ, or via PayPal.
23rd February - 2nd March 2018 "Architecture"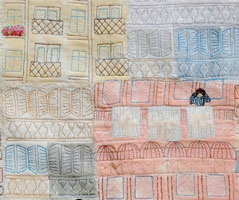 The content is pretty much finalised, with just a few samples left to complete and this is a subject which lends itself to be interpreted in so many different ways.
Perhaps you live near a historic Castle, Church or Cathedral and could take the shapes of doors, windows or arches, or the patterns in old locks or hinges as a starting point. Maybe you have images of Mediterranean holidays, vibrant colours, narrow streets and balconies, here is the image of a quilted piece I made some years ago which was printed with various emulsion paints. Other styles which immediately sprint to mind are the fantastic Gaudi buildings in Barcelona, Islamic minerets, or Art Deco or just stick closer to home and design a piece inspired by your own home.
If you are generally inspired by nature, why not research a particular flower, bird or animal and how it has been interpreted in stained glass, wood or stone carving, floor tiles or mosaic.
Whatever your choice, the course is suitable for all levels of experience and will be a week full of laughter and stitching, here are a couple of comments from previous students:-
— "I've really enjoyed the week, thanks for your excellent advice, it's been wonderful."
— "What a lovely week - you have given me new confidence and inspiration. Thank you."
Friday
Arrive in time for afternoon tea and cake, discuss plans for the week and look at samples.
Saturday
Visit St. Just in Roseland a beautiful 13th century church where ancient legend says is the spot where Joseph of Arimathea came ashore with Jesus or begin work on designs and visit Mevagissy for lunch.
Sunday
Creating backgrounds! Make your own printing block to use with paint or gesso to give the effect of stone and plaster, cut and stamp fimo to recreate terracota stone floor tiles.
Monday
Use a soldering iron or a heat gun to distort, cut and layer manmade fabrics.
Tuesday
Free to explore St. Austell, St. Ives and maybe Tate St. Ives, Eden Project or continue working in the studio.

Wednesday
Expand and experiment traditional patchwork techniques such as cathedral windows, prairie points and trapunto etc. for use as starting points for embroidery.
Thursday
If you still need some ideas we can look at making 3 dimensional tassels inspired by buildings. Otherwise, continue working with support on own projects and ideas.
Friday
Depart with Sketchbooks, Samples and Ideas!
.
Summer Schools 2018
Other Residential or Summer Schools
Court Hill Centre, Oxfordshire
Schools
Distance Learning - Machine Embroidery